Catherine's Room
This sun-drenched corner room on the top floor is named for Catherine Ward, for whom the house was built in 1886. Four large windows in the bedroom and two large windows in the bathroom are complimented by 10.5-foot ceilings and the only working guestroom fireplace in the main house.
A renovated bathroom, décor of soft pastels, floor-to-ceiling silk drapes, crystal chandeliers and Queen size bed all make for an elegant and yet completely relaxed retreat.
Captain's Room
This top floor room is named for Captain James Ward, an Irish Sea Captain, who built this exceptional example of High Victorian Italianate Architecture for his new wife, Catherine.
The King sized bed with an oxblood screen as a headboard offers a masculine touch in a room of clean lines and warm details. Honey tones throughout are complemented by a gold leaf cornice board, elegant silk drapes and a crystal chandelier creating a rich and inviting experience.
The spacious bathroom includes double sinks and a separate shower.
There is access to a balcony and stairs that leads to the courtyard below.
Jim Williams Room
This corner room is the smallest of the three on the top floor, but high ceilings, corner windows and balcony all help to expand the sense of space. Newly renovated bathroom, ceiling fan, neutral pallet, custom drapes and Queen bed with headboard of tobacco-colored linen offers a welcomed retreat from the heat of the day or cold winter afternoons.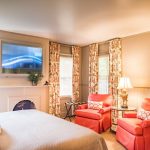 Jessica's Room
Jessica's Room is a corner room located on the first level. A King size bed, newly remodeled bathroom and a cleverly "hidden" television add warmth and charm to a light, cool, comfortable and very tasteful garden room.
Unique to this room is a private gated entrance that allows access without having to climb many stairs. It also includes a private covered patio with outdoor seating for enjoying the morning light or evening breeze.
Nell's Room
Nell's Room is located on the first level with windows that face a quiet lot on the side of the house. The Queen size four-poster pencil bed and traditional wallpaper in soft yellow and cream tones create a warm and very comfortable guest experience. The bathroom is larger than most and has just been completely renovated. This quiet and very pretty room also has a private door that leads to the Courtyard and fish pond.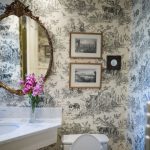 Garden Room
The Garden Room is the smallest room located on the first level. A Queen size four-poster bed surrounded by black and white French Country wallpaper and drapes complimented by apple green bedding creates a very welcoming experience. The petite bathroom includes a window and shower. This room also has direct access to the courtyard for quiet moments on a warm evening or a cup of coffee with the morning paper. It is a wonderfully cozy retreat and a favorite choice among many guests.
Hibernian Room
The Hibernian room is the smallest of the three rooms located in our Carriage House. Recently updated, this room is as elegant and welcoming as any. High ceilings, ceiling moldings, white and green leaf wallpaper, Queen size bed with custom headboard and skirt, chandelier, mirrored chest of drawers, and newly renovated bathroom with shower makes this delightful little room a practical way to enjoy a restful retreat. The porch is a very nice extension of the room and overlooks the courtyard where you can listen to the soothing sounds of the fish pond's waterfall.
Sea Trade Room
Located on the first floor of the Carriage House the tiled entry hall leads to a large apricot-colored room with grasscloth wall treatments and floor-to-ceiling silk drapes. The apricot tones are contrasted by a black lacquered Chinese screen used as the headboard with the King size bed. Vintage lamps, working fireplace all contribute to a wonderfully romantic escape.
Cosmopolitan Room
This very private room with balcony is located on the second level of the Carriage House. Neutral colors are enhanced by the black marble hearth, chocolate silk drapes, bamboo blinds, warm wood tones, mirrored back splash and dark counters of the wet bar. Custom King size bed, antique Asian nightstands, original artwork and a flat-screen TV mounted above the fireplace mantel and behind a mirror only begins to describe this very contemporary yet rich room. Tile and mirror bathroom with a two-person shower adds another dimension making The Cosmopolitan Room as unlike a typical bed and breakfast experience as you can imagine.