To our past and future guests:
As we all know, this past year has been extremely challenging. Like everyone else, we look forward to the day we can resume business as usual. Our reality is that the restoration of our business will evolve over time.
Safety is the first priority. Providing creative and thoughtful guest service is a close second.
We won't enter your room during your stay but will use every precaution in preparing the room for your arrival.
We will provide fresh towels, replenish supplies and offer trash service, all without entering the guestroom.
We will offer breakfast on your terms.
We'll limit occupancy allowing the rooms time to rest in between bookings.  
There is no shortage of things to do! Museums, tours and restaurants are all open (some with reduced days/hours). Parks and beaches are open. As you would expect, a mask properly covering the nose and mouth is required in public places. Public places include, but aren't limited to, restaurants, retail stores, salons, grocery stores, pharmacies and government buildings.
Should the stars and moon align in such a way that Savannah is calling to you, we hope you will choose to stay with us.  
Looking forward to seeing you!
Catherine Ward House Inn Management and Staff
Experience Savannah in style!
Built in the 1880s and embodying true Southern charm and hospitality, the Catherine Ward House Inn welcomes guests to Savannah's Victorian District. Equally charming are the inn's intricately architectural exterior and the newly-renovated interior and nine guestrooms, each filled with ample amenities and showcasing its own unique personality.
This Savannah bed and breakfast is located just steps from the beautiful Forsyth Park, one of Savannah's most photographed gems, and the perfect area for a stroll, picnic, or sporting activity during your stay. The Catherine Ward House Inn is also conveniently located near the countless restaurants, shopping, and activities that Savannah has to offer, making it the ideal destination for your Savannah stay.
Breakfast Table
We like to believe that the heart of our inn is the breakfast table. Each morning, you will wake up to the aroma of coffee brewing and breakfast being prepared to be served in our light and airy dining room. It's a place where you can enjoy a delicious meal and conversation before you begin your day of exploration in Savannah. A favorite experience among past guests, we hope our breakfast table makes you feel right at home.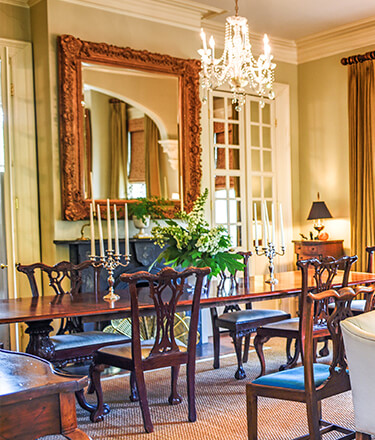 What Our Guests Are Saying
"I discovered the Catherine Ward House Inn a number of years ago – about nine. When we are in Savannah, I would not consider staying any place else. The very best staff and best food with a very personal touch. There is no other place to stay if you go to Savannah."
— Steve E., Fort Lauderdale, FL
"Everything is absolutely perfect. Leslie is wonderful. She and the staff make you feel like family. The entire house is perfectly decorated with beautiful antiques and the most delicate and well-thought of details. The beds, breakfast, location…everything here is perfect. So cozy, welcoming, and like home away from home. We will definitely stay here again. It is just lovely!"
— Heidi Z., Tampa, FL
"My husband and I were fortunate enough to stay here to celebrate our 10th anniversary. The staff is wonderful, the rooms are absolutely gorgeous, and the breakfast is top-notch! Thank you, Catherine Ward House staff for a wonderful experience. We will be back!"
— Richard and Lara A., Palm Beach, FL
"This visit was our fourth. Never disappointed. Lovely rooms, always updating, and immaculately clean. Love the decor and the manner in which there is the blend of old charm, mixed fresh and new. Hospitality and breakfast are the best!"
— Marleen S., Medford, NJ
"I've stayed in a B&B before but nothing like this one. The staff treats you like family and provide outstanding service! The breakfast was always delicious, and we enjoyed visiting with the other guests. We will definitely be back!"
— Maygen P., Stonewall, MS
"We couldn't have asked for a better B&B with wonderful staff, amazing breakfast, and nice people staying there with us."
— Jake R., Prior Lake, MN
"Stunning B&B! The decor, hospitality, and food were amazing! When I return to Savannah, I will be staying here again! All the rooms are amazing!"
— Petty W., Panama City, FL
"For my wife and I, this was the first time either of us had stayed at a B&B, and it was our first trip to Savannah. We will definitely be returning. Next time, I think we will just spend more time in our room with the fireplace and jacuzzi. Much love to the 'Cathouse' ladies. You are all so wonderful."
— Paul M., Gainesville, FL
"Classy southern charm. Great staff, great room, great breakfast."
— Tim U., Sun Prairie, WI
"An exquisite, queen of Savannah, under the helm of innkeeper, Leslie!"
— Leslie C., West Haven, CT